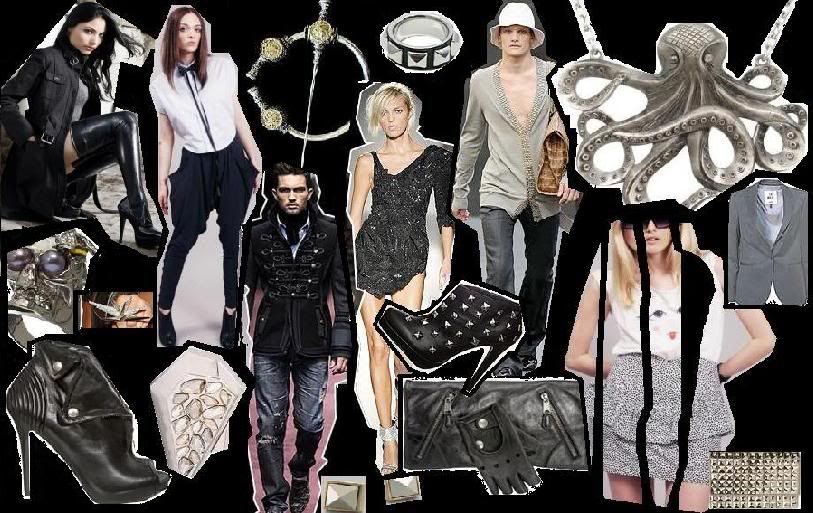 sooo these are a couple of the recent and upcoming trends trends that are due to skyrocket this fall/winter of 09-10. they include but are not limited to ultra low v-necks, military jackets, thigh-high boots, studs, jodhpur pants, leather, and rocker chic styles!
personally, i am so excited for fall! not only because it is my favorite season but fall fashion is the absolute best, and it's the best weather for layering. in september i shall be a happy camper. some of these upcoming styles are also classic and timeless which is awesome.
so now in my personal life. um i am back home from the beach house but unfortunately i came back to a clothes filled very dirty bed room. so tomorrow i begin project:clean this damn room! ha! and i will also begin to pack for the dominican republic. whoo! i leave this saturday at 4:00am in the morning. unfortunately i won't be able to post any blogs while I'm there but i might leave a scheduled post. any who, being my last summer before i enter college my close friend wanny munoz and i are going to make a...[memory box]. so far i have gathered some concert tickets, a couple photographs to represent the past, my cobra starship fangs to represent all the fun memories and the more to come, my fashion scissors to represent my love of fashion design, movie tickets, a national honor society rose to represent my achievements and some make-up. i need to add more things but i need to clean my room first. i want to make a collage of where i want to be in four years, write a letter, and a couple other things. we plan to bury it in her back yard and come together once we both finish college, dig it up, and go through it. yup that's our plan. i also gave her a gift. i gave her a leopard print shirt which i own as well and gave it to her as our we to stay connected during college. whenever she feels sad or lonely that is my way of being there with her even if we are separated and it is incredibly chic so if she's feeling bummy she can wear it and be that much more fashionable :]. hehe well thats all for now ciao.