wearing:
hanes t-shirt-
target
.
black edgy multi-strand necklace-
forever21
.
acid wash jeans-
target
.
tattered and written on black and white converse from freshman year!
:D
lately, i have been feeling a bit rocker chic. i've been having the urge to add more to my outfits, from silver jewelry to silver nails. i guess it must be this rainy weather that has me dying for something bright and shiny. well today i didn't do anything but it was an amazing day i was dying of boredom when i hear someone outside say "UPS!" i can safely say that i have never ran from my computer to the door so quickly. i felt like dash from the incredibles! i open the door and there are two humongous boxes one was from forever21 and one from my college. i was shopping online the other day and found a bunch of gorgeous things at forever21 that didn't look like they were from forever21 at all hence, the reason i purchased them. these are the items.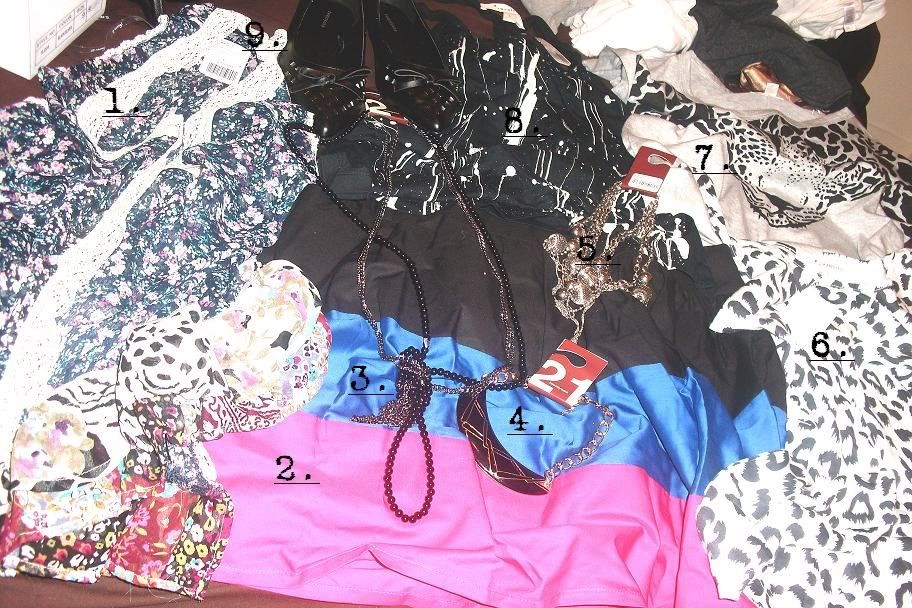 1.
open front floral chiffon top trimmed with leopard lace.
2.
chic and festive blue and pink color block skirt.
3.
edgy multi-strand necklace embellished with assorted metal beads and chains.
4.
large chain adorned with crescent shaped pendant with an abstract design.
5.
pearlescent beads and antique finish cable chains necklace.
6.
black and white scoop neck leopard print tank.
7.
grey leopard face knit top w/ cuffed sleeves.
8.
black and white paint splatter design racer back tank w/ knotted shoulders.
9.
black studded point-toe leather flats.